Regular price
$129.99 USD
Sale price
$28.59 USD
Unit price
per
Sale
Sold out
In just 1 month, you will say wow!!!

Have you struggled with stubborn pockets of fat that won't seem to shift even with exercise? Baggy and saggy skin that won't tighten? Do you seem to have a Turkey neck that makes you feel self-conscious or look older than you are? The dimpling effects of cellulite? Muscle pain from computer use or hunching? If so, this 3-in-1 Ultrasonic EMS Infrared Body Slimming Massager may just be your new best friend!
This device produces infrared heat to encourage blood flow underneath the outer skin layer. Fat deposits are broken down and eliminated by the body. Aches and pains are also reduced because of improved blood circulation. It transmits waves of ultrasonic into cellulite affected areas of your body. The frequency of the ultrasonic is set to disrupt the fat cells that are causing the cellulite to appear. The continuation of the cavitation therapy causes the fat the get moped up within the lymphatic system and disposed of via the liver. The technology is very effective and a real technological breakthrough for getting rid of cellulite.
Target problem areas with 3-in-1 Ultrasonic EMS Infrared Body Slimming Massager and see visible results within 2-3 days! Cavitation treatments at local beauty centers can cost upwards of hundreds of dollars for a single session! Why pay so much when you can have as many treatments as you want in the comfort of your own home?
Features:
Skincare to clear, lighten, smooth the look of skin.

Negative Ionization: acne and blemish particles are positively charged. This device can provide negative ionic charges to remove the positively charged particles like acne and blemish particles from the lower layer of your skin.

Positive Ionization: positive ions are used to nutrients from gel, cream or essences to penetrate the deeper layer of our skin.

Firm the skin texture.

Reducing the appearance of both wrinkles and fat deposits.

Deep cleanse and moisturize.

Enhance skin texture, anti-wrinkle, helps fight fatty areas, tightens and firms.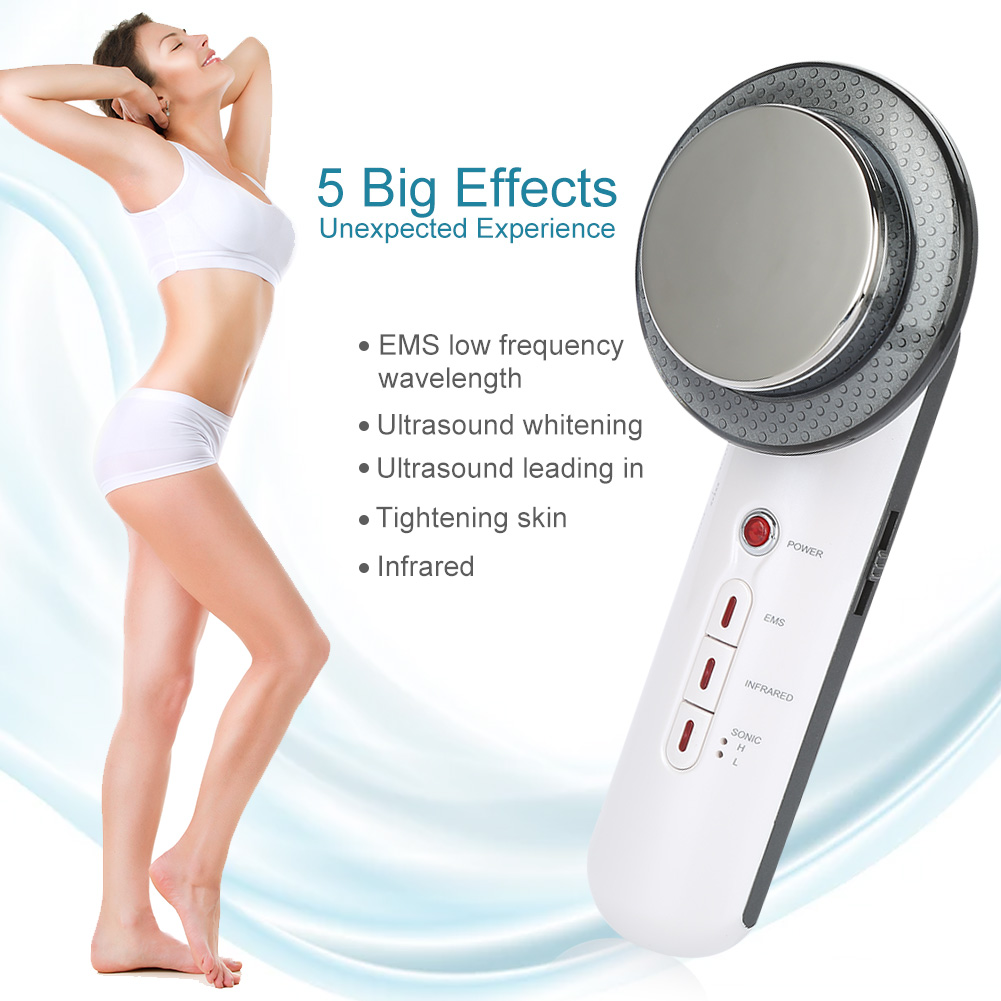 Technology:
EMS + Infrared + Ultrasonic(Ultrasound).

The ultrasonic wave massage can helps to burn fat and tighten your skin with no bounce.

The infrared ray can restore the elasticity and active the cells more thoroughly.

5 Modes of EMS (Tapping, Massage, Knead, Scrapping, Slimming), 5 intensity selections, freely choose one make you feel comfortable.
Package Includes:
1x 1MHz Ultrasound massager
1x Power adapter
1x Wire
2 Pair of Contact Pads
1x English User Manual

View full details