Regular price
$49.99 USD
Sale price
$24.99 USD
Unit price
per
Sale
Sold out
New revolution in washing face
This Electronic Facial Cleanser and Massager is a must-have if you want your skin to look young and fresh. With the included the attachments, you can remove callus, massage your skin, give yourself a deep clean, remove makeup and so much more. This handheld device comes with 4 attachments to serve all your beauty needs. 
Features: 
1. Restore soft and smooth skin
2. Exfoliate dead skin cells to reveal radiant and youthful skin
3. Reduce and erase fine lines & blackheads
4. Compact and light-weight
5. Two settings: "Low" for daily cleaning, "High" for exfoliation
6. Color: Pink; Blue
7. Four attachments included:1*soft brush;1*rolling massager;1*make-up sponge;1*crude Polish accessory
Four-in-one function:
1. soft brush thoroughly cleans the dirt adhering to the face, better with cleanser
2.360 degree rolling massage head: enhance the intensity of the massage, the face-lift effect is obvious
3. Sandstone massage head: cleans the skin, removes keratin and dead skin, and makes the skin of the face firmer
4. Latex sponge massage head: Suitable for around the eyes and cheeks. Remove fatigue, remove dark circles
How to Use:
1. Hand foaming method: squeeze the appropriate amount of cleanser into the palm of your hand, turn on the cleansing device switch, place the rotating brush head on the palm of your hand, and rotate the bubble for a little time.
2. Lazy cleansing method: moisturize facial skin with water, then moisten the cleansing brush with water, squeeze the appropriate amount of cleanser onto the surface of the brush, open the switch, directly put the rotating brush on the face, master the strength.
Specifications:

Power By: 2 "AA" batteries (NOT INCLUDED)
Dimensions: 135 x 70 x 48 mm
Operation condition: Temperature 10-40'C (50-104'F), Humidity 30%-90%
Package Weight: 170g
This product is not waterproof and can not be used in the shower.
Package Includes: 
1*main unit
1*soft brush
1*rolling massager
1*make-up sponge
1*crude Polish accessory
1*Storage Box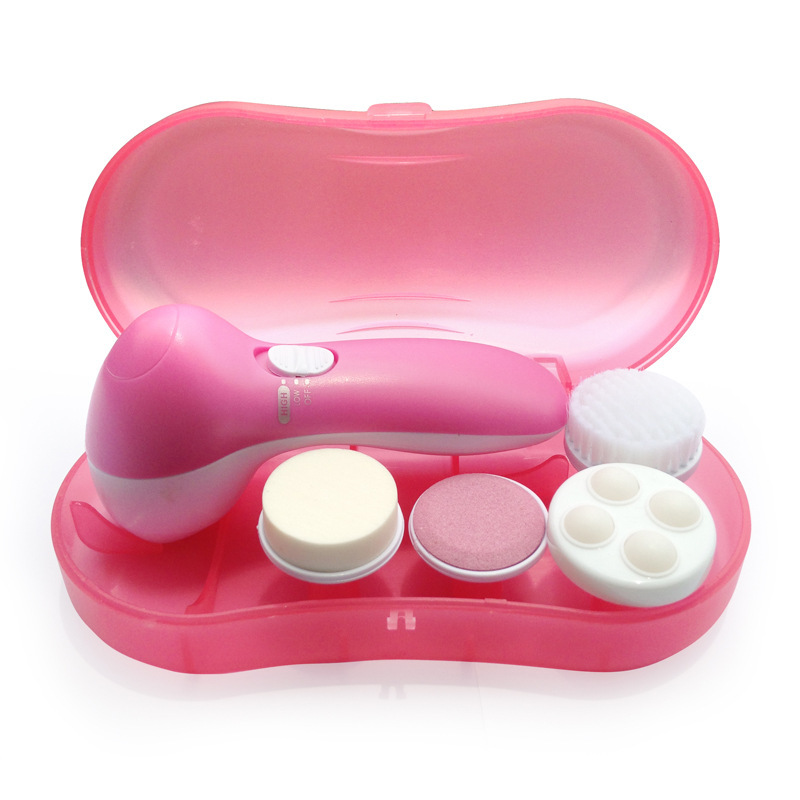 View full details