Regular price
$150.99 USD
Sale price
$92.99 USD
Unit price
per
Sale
Sold out
The traditional mask has entered the stage of the white-hot competition, and all kinds of dazzling brands are limited to changing the inner material and propaganda packaging, which is difficult to break through; the market is launching a new technology in the field of masks - vibrating mask instrument;

Vibrating mask meter, used together with mask; use nutrient silicone mask to fully protect the nutrients contained in the mask is not easily taken away by air evaporation; combined with the principle of Chinese medicine acupoint massage, use vibration to stimulate the corresponding acupuncture points, promote the subcutaneous blood to accelerate circulation, and double the mask essence absorbed by the skin.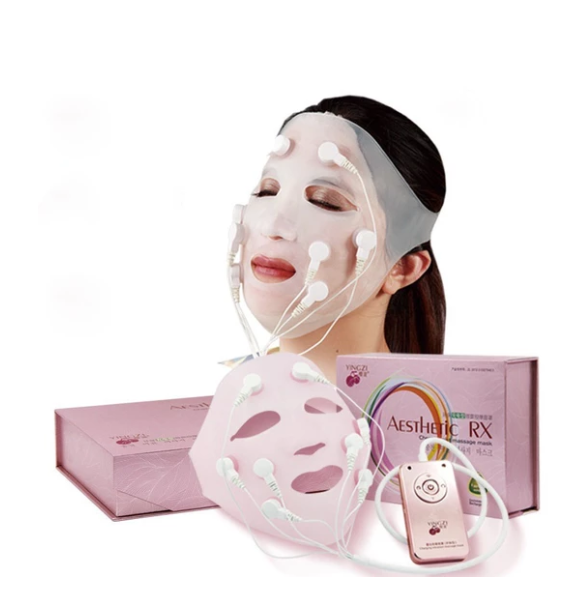 Features:
Face Features: the use of traditional Chinese medicine acupoint physical therapy, three points for the facelift vibration massage, promote blood circulation, burn excess fat point stimulation, chronic therapy is safe, no rebound, no side effect
Cosmetic Function: shaking head per minute up to more than 9600 times the frequency of vibration, force transfer to the corresponding beauty acupoint nerve stimulation, accelerate the blood lymph circulation, make facial skin remain active; insist to use, the skin can be improved, become pink elastic
Auxiliary Function: products with a mask or other facial skincare products to use, to prevent evaporation loss by air mask essence, the essence of more comprehensive retention in the skin, through the vibration massage can accelerate the absorption of facial essence is, let the original effect doubled
Convenient Function: when the product with the mask, can be fixed on the face mask, solve the traditional mask is not easy to facilitate the activities of the troubled; reading, cooking, surfing the Internet, there is no obstacle
Special Function: in addition to cosmetic purposes; for patients with facial paralysis of facial muscles to massage the problem every day, just to solve these problems: It can avoid the unsanitary, laborious, uneven force caused by hand massage, and the reaction problem caused by it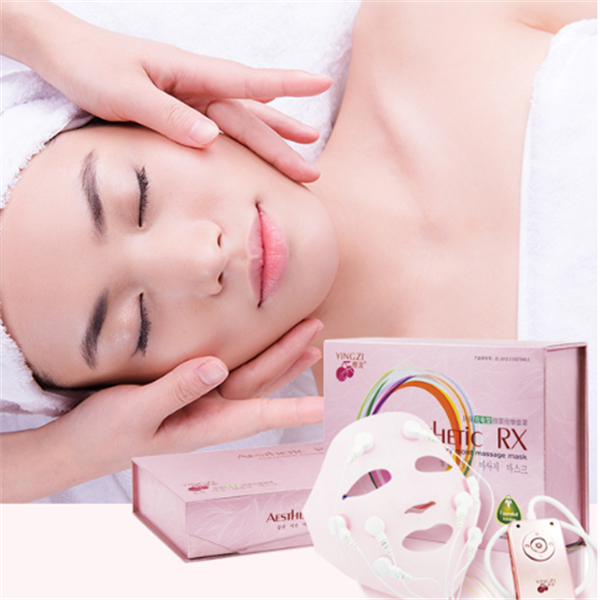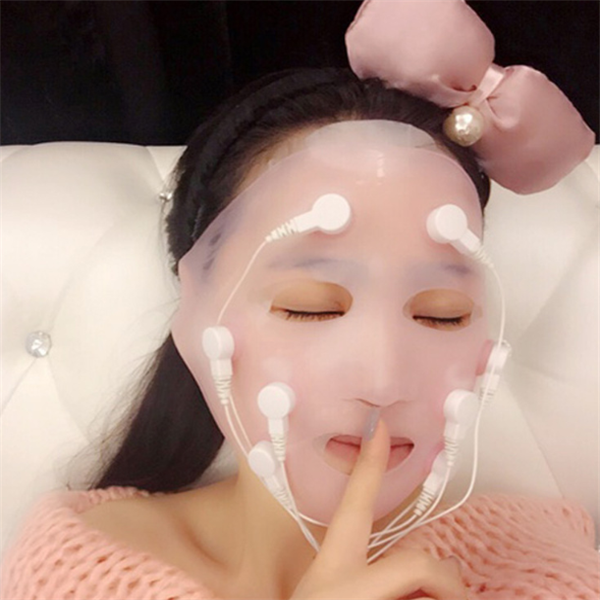 How to Use:
1. Place the acupuncture points that need to be massaged on the silicone mask to place the link line. For the first time, press the main power button on the left side of the controller; put it ready for use;

2. After cleansing, use hot water to help the face open pores; apply the mask or apply the required skin care products;

3. Put on the instrument, according to the size of the face needs to adjust the back strap or button to the position that suits you;

4. Press the controller surface switch to adjust the strength and mode that suits you. You can start enjoying your face spa; the instrument will stop automatically every five minutes, and you need to start again.

5. After use, silica gel can be rinsed with water and then air-dried;

6. the first few uses of the recommended time within 5 minutes, after the facial muscles, adapt to the vibration sense can be extended to use time.
Specifications:
Working principle: rechargeable
Material: Food-grade silicone, lithium battery
Package Includes:
1 x Massage Slimming Mask
1 x remote control
View full details